DEBRA Canada Patient Members Families
Are invited to apply for funding to attend...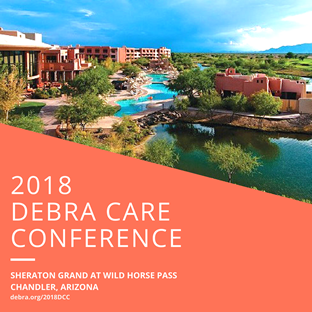 The DEBRA of America
2018 Care Conference
The Sheraton Grand, Wild Horse Pass: A Phoenix Family Resort in Chandler, AZ.
July 22 - 25, 2018.
Are YOU an adult with EB? Or do you have a child with EB? Are you and a family member/caregiver interested in attending the 2018 DEBRA of America Care Conference?
This year, DEBRA Canada will offer funding for ten DEBRA Canada member family groups (two people per group = one patient and one caregiver) to attend the DEBRA of America 2018 Care Conference in Chandler, Arizona, USA.
Details of DEBRA Canada funding for each (2-member) family funding provided would include the following:
Economy Airfare (departure dependent on where each family resides in Canada)
Congress Registration Bundle (includes hotel and food for all conference days)
Includes food for evening of July 22, and three meals each day - July 23, 24 and 25
Includes a total food per diem of $355 CAN per family (for two travel days, July 21 and July 26).
Please note: Funding does NOT include:
Any additional costs related to upgrades on hotel room stay
Any additional costs related to airline (i.e. flight upgrades or missed flights)
Click "apply for funding" (click here) to see complete details on how to apply.
Notification of Selection...
Each application will be assessed on a case-by-case basis. Those DEBRA Canada member families selected to receive funding will be notified by phone and email (if provided) by Friday, March 16, 2018. Submission deadline is Monday, March 5, 2018.
We look forward to receiving your submission!
More about the 2018
DEBRA Care Conference...
Specially organized for the EB Community, this widely anticipated multi-day gathering will feature:
As an attendee, here's what you can expect:
4-night stay at the Sheraton Grand at Wild Horse Pass, an all indoor, temperature-controlled luxury resort, located 11 miles from the Phoenix Sky Harbor International Airport.
Access to more than 30 educational sessions including presentations from top medical professionals on a broad range of areas in EB Care.
Updates from the country's leading EB Researchers.
Entry to Exhibitors Hall with wound care manufacturers, supply distributors and patient advocacy partners.
Panel sessions and roundtable discussions with EB experts and community members.
Designated areas with day-long kids' activities and entertainment.
Provided meals.
Social activities through-out the span of the conference, special guests and more

The DEBRA of America staff is excited to share important details about the conference with you! To learn more about the conference, click here.