---
Josée Girard, Saguenay-Lac-St-Jean, Québec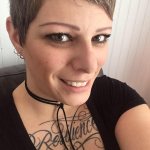 My name is Josée Girard. I am 35 years old and I am a French Canadian living in a region in Quebec called Saguenay-Lac-St-Jean. I am very interested in raising awareness in Quebec and across Canada (attending conferences, helping nurses and medical professionals), to become familiar about all things related to EB.
I personally lived with EB a few years ago, as my daughter Alycia was born with JHEB and unfortunately received her butterfly wings (passed away), at the tender age of nine months.
Before having my daughter, I didn't know anything about this terrible disease. As part of the healing process, I am writing my daughter's story with the hopes it will be easier to talk about.
I was in the military for five and a half years, and feel the need to advocate for others. My goal is to go back to school to become a Psychologist, with the hopes I can help others. I am very excited to have joined the DEBRA Board of Directors to help make a difference!