---
We Need Your Votes!!!
With your help, a vote for the Kanata Blazers could result in a $15,000.00 donation to DEBRA Canada
Cast your vote and make a difference…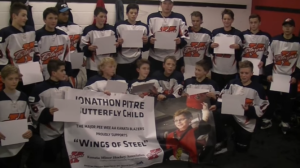 The Kanata Blazers are a Major Pee Wee AA hockey team from the greater Ottawa region who are one of 13 finalists in the Chevrolet Good Deeds Cup. The contest awards the winning group (the group with the most votes), $15,000.00 to donate to the charity of their choice and the remaining 12 finalists will receive $7,000.00 to donate to their charity of their choice.
We invite you to cast your vote to help the Kanata Blazers with their chances of raising funds for DEBRA Canada in honour of Jonathan Pitre.
Click on the link below, then scroll down the page select "Kanata Blazers - Blazers Fight for Jonathan Vote Now".
http://www.chevrolet.ca/hockey/power-of-play.html
Voting is open until April 20th and you can cast one vote each day until the contest closes!