Dave Molinaro -Director, Stoney Creek, Ontario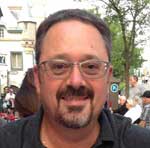 My name is Dave Molinaro, proud father of two and loving husband to my wife Fran. My family and I reside in Stoney Creek, Ontario. My devotion to EB began 24 years ago when our first daughter Deanna was diagnosed with Recessive Dystrophic EB. When she was born, it took four hospitals in both Canada and the United States to give us advice and a proper diagnosis. Fran and I couldn't believe how difficult it was to gather information and support, let alone connect to other families coping with EB life. We decided to take a stand, to educate ourselves and bring about EB awareness.
With the help from those at the Toronto Hospital for Sick Children (Sick Kids), Debra of America, and other families nearby and across country, we founded DEBRA Canada (a non-profit charitable organization that provides awareness and support to families learning to cope with EB). Over the years, and with the help of a spectacular support group of friends, colleagues and other EB families, I have been involved in fundraising and spreading the word about this disease. I was recently appointed as a Vice President on the executive board of DEBRA Canada. I look forward to expanding my involvement with the organization, and to continue to grow the awareness level and support for EB patient member families across the country.