Deanna Molinaro - Director, Stoney Creek, ON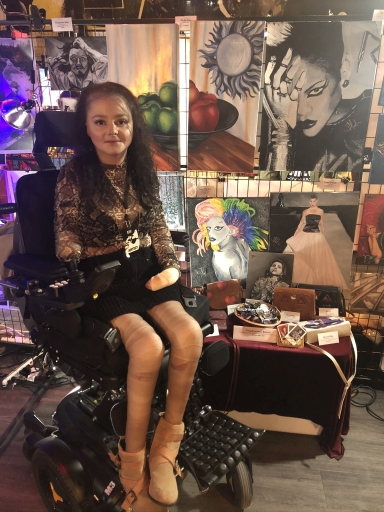 I have always believed actions speak louder than words, wherein the simple stroke of a brush emanates volumes about the person who yields it. First and foremost, I'm an emerging contemporary artist from Hamilton ON. I am currently self-employed as a freelance painter/stylist and a recent Sheridan College graduate. At birth, I was diagnosed with Recessive Dystrophic Epidermolysis Bullosa (RDEB).
As a long time patient with RDEB, advocate for EB awareness, and proud daughter of DEBRA Canada's founding members; I have lived and breathed advocacy before I even truly understood the meaning of the word. This being said, I feel very passionate about my position on the Board of Directors. I am currently at a good place in my life, where I have the ability to give back and support others the way my DEBRA Canada family supports me.
By utilizing my personal experiences, artistic abilities and position within the EB community; I hope to provide guidance, patient support, and help bring about more knowledge and exposure by spreading EB awareness to society's younger demographic.
Often times having EB is unbearable, but it has made me the stronger more resilient person that I am today. I wouldn't wish it on anyone, but I am better for it.
Please feel free to reach out; I look forward to connecting with all of you.