Deep Mann-Director, Surrey, British Columbia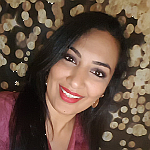 I'm a mom of three wonderful, loving and adventurous boys. After a long year of challenges and several mis-diagnoses by a few different doctors, one of my son's was diagnosed with DDEB and the first person in our family.
Watching him battle thru this pain on a daily basis has inspired me to become his voice and advocate in the community. After realizing how little is known about EB, I decided that I needed to do more to help create awareness on the west coast of Canada. I started out just volunteering and taking small steps to inform people of what my son deals with. I truly got involved in 2013 by helping organize Bella's Ball; DEBRA Canada's first Broomball fundraising and awareness event, which now takes place annually at Grouse Mountain, North Vancouver, BC.
Many people are beginning to learn more about this very rare and painful disease, but it's still not enough. I won't stop till everyone knows about it and a cure is found. Please feel free to contact us for more information or to help create awareness.