Dr. Irene Lara-Corrales-Director, Toronto, Ontario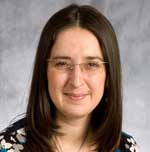 I completed my medical school and pediatric residency in San Jose, Costa Rica at the University of Costa Rica. I came to Toronto in 2005 to complete a clinical fellowship in Pediatric Dermatology. In my first year of fellowship I initiated a research study looking at the effect of antimicrobials in wound healing of patients with recessive dystrophic epidermolysis bullosa. This was the first randomized controlled trial in this patient population and allowed me to apply and complete a Master in Science at the University of Toronto. In order to finish my master degree I extended my training as a research fellow and completed the MSc in 2009. I was recruited to stay and work as a Pediatric Dermatologist at SickKids in 2010. Since that year, I have been an Assistant Professor in Pediatrics at the University of Toronto and staff Pediatric Dermatologist at SickKids.
Since joining the faculty, I have been active in several EB related areas. As soon as I became staff I joined Dr. Elena Pope in the EB clinic and we have been coordinating this clinic together since 2010. The clinic has grown, and now we run two EB clinics per month. I have also been active in EB-related research and have completed both journal and book publications about this condition.
I am passionate about EB and caring for EB patients. I am very excited to join DEBRA Canada's board and working together towards improving education, quality of life, clinical care and research in EB.