Pat Coutts-Director, Mississauga, Ontario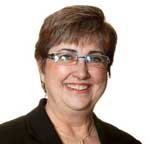 I am a Registered Nurse who has worked in multiple areas – medicine, surgery, psychiatry, premenstrual syndrome, family practice, dermatology and chronic wound care.
Over the last 20 years I have been involved with the Canadian Association of Wound Care serving on various committees as well as the Board of Directors, I am currently the immediate Past President.
Several years ago I became interested in working with young children and young adults affected by Epidermolysis Bullosa. Though my work I have been able to play a small part in helping to raise awareness of EB – and this has been very rewarding for me. I had the privilege of being part of the development panel for the Best Practice Recommendations for the management of EB.
As a DEBRA Canada Director, I look forward to helping raise more awareness and assisting in growing DEBRA's programs and services for our EB member families.