Ryan Hultman-Vice President, North Vancouver, British Columbia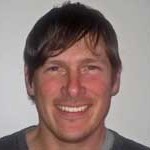 EB and many of its terrible manifestations came into my family the day our youngest of two daughters was born. It was a struggle from that first moment to do anything right in her care. All the basics we'd mastered from our first child, such as feeding and touching through basic care had to be completely re-learned. From that point on I realized so much had to be learned and understood with the day to day activities (and what may come in the future), with the complications stemming from my daughter having basically zero collagen binding her skin and mucosal membranes.
I looked to everywhere to gather as much information. Within months of my child's birth, DEBRA International held a Congress in Groningen, Netherlands, and I went to participate. At that time, I was overwhelmed by the information and the great people within the organization itself and the EB community. Soon after I looked to DEBRA Canada to see how I could help out to further awareness for those suffering with EB.
I was voted in as a Director in March 2012, and shortly after took over as the Medical Assistance Fund Liaison. After a couple years in, I spearheaded a very successful awareness and fundraising event 'Bella's Ball' and became a Vice President. Today, I continue to look forward to improving the organization and everything that affects those living and fighting the EB battle.