Tina Boileau-President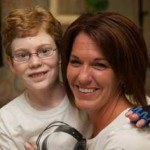 I am the mother of two amazing kids, my son has Recessive Dystrophic Epidermolysis Bullosa (RDEB) and my daughter is a carrier of the gene. I was first introduced to EB when my son was born 14 years ago. After a very long stay at the Neonatal Intensive Care Unit (NICU), Jonathan was diagnosed with RDEB.
If being a new mother wasn't challenging enough, we added a curve ball into the mix – EB became a huge part of our lives. Given that EB is a rare disease, there was very little knowledge on EB at the time, and so learning how to care for an EB child came with its challenges, trials and errors. Like other kids with EB, Jonathan is excluded from most social activities including sports. Through his perseverance and resilience, he has a very positive outlook on life regardless of the obstacles EB throws his way.
I became involved with DEBRA Canada in 2012 following the DEBRA International Congress that was held in Toronto. My 14 year old son and I were guest speakers for the patient panel. This was the first time Jonathan had met other people with EB.
DEBRA Canada has helped him connect with others like him and has since given him a sense of belonging in the EB community. Jonathan, like other "butterfly children", has touched the lives of so many people with his courage and positive attitude. Jonathan has since become my sidekick in launching the Ambassador Program. Together we strive to inform, educate and create awareness about EB. Along with all of the DEBRA Canada members, Jonathan and I work for the common goal of finding a cure for EB.
You can contact me in English or French.